BRI's Sun Conure Project in
Guyana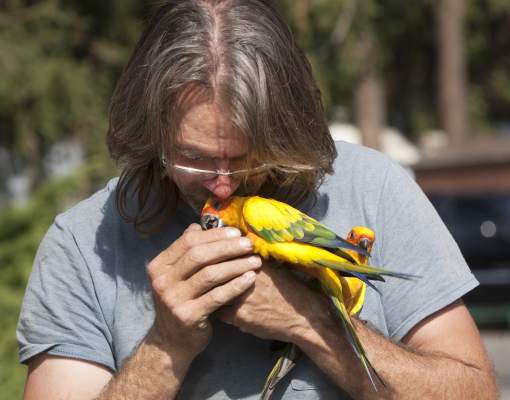 We have officially started the Sun Conure project!
This is being put together with our partners at The Smithsonian Institute and Texas A & M.
Click on
 

animalclue.com

 

to view the project.
Introduction
Distribution and population
Aratinga solstitialis is restricted to central Guyana and Roraima state, Brazil, and may previously have occurred in Surinam (Silveira et al. 2005). It is considered hypothetical in Venezuela on the basis of one sight record. Though it was fairly common until the 1970s in the Rupununi-Roraima savannas of western Guyana and adjacent Brazil, it has since been extirpated there, presumably by trappers, and it is now very scarce or absent across its former range. In Brazil it was recorded from the Mau river, Contão Cotingo river and Maracá Ecological Station (M. Persio in litt. 2005) during the 1990s. Flocks of up to 12 birds have been recorded at the Terra Indígena Raposa Serra do Sol, and along the road from Santa Elena de Uairén (Venezuela) to Boa Vista, 50 km south of the border. Birds have been frequently found (in flocks with >15 individuals) at five localities inside São Marcos and Raposa/Serra do Sol indigenous lands (Laranjeiras et al. 2011). Records in the Sipalwini savannas relate to A. (s.) maculata (Mittermeier et al. 2010, T. Orsiin litt. 2012) which is likely to be split.
There are no recent records in all other localities in Brazil where the species was found in/before the 1990s, including at Maracá Ecological Station, despite surveys in 2010 and despite local indications of its presence there around 2000 (Laranjeiras et al. 2011). Several historic localities no longer contain dry foothill forest that the species apparently requires. In Guyana evidence of nesting has been found in the Karasabai area where 50-80 individuals were seen in 2003, and c.25 km from this site there are fairly recent records from Karanambo (c. 30 km from the Brazilian border at Bonfim), and on the west bank of Demerara in 2006 (T. Arndt in litt. 2007, Guyana Amazon Tropical Birds Society in litt. 2007).
Since the early 1990s records are limited to only nine localities, and there are thought to be fewer than 1,000 individuals in Brazil (T. Orsi and L. F. Silveira in litt. 2012). The total population probably now numbers no more than a couple of thousand individuals at the very most, but probably fewer, with at least 90% of these in Brazil, within a restricted, decreasing and fragmented range (Laranjeiras et al. 2011).
Updates on the Sun Conure Project
No Results Found
The page you requested could not be found. Try refining your search, or use the navigation above to locate the post.
BRI could not exist without the generosity of our supporters.
By making a tax deductible donation to support the work being done by BRI, you join a community that is committed to helping save endangered bird species for future generations.
With your gift you are investing in nature's future and become a partner with BRI as we work to save endangered birds through reintroduction programs, research, education, and habitat conservation efforts.
Donations made to Bird Recovery International are tax exempt. BRI is recognized by the IRS as a 501(c)3 organization. IRS TIN # 26-0172673