FREE School Program
Animal Clues
Talking Parrots, A Kid Favorite
30 Years Experience Bringing Safe Hands-On Educational Programs With Friendly Parrots To The Public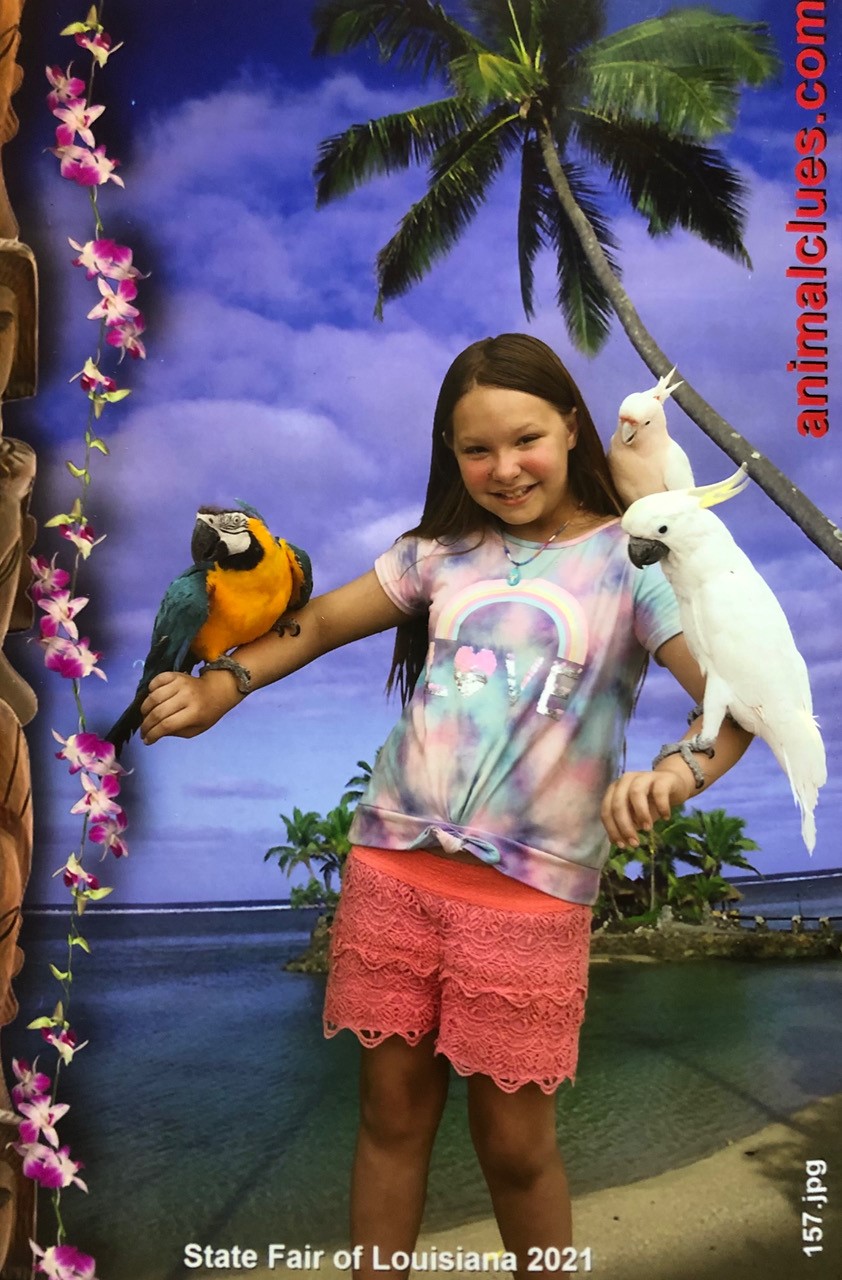 All students can attend the program for FREE.
Fun educational 45 minute program with live parrots is free to schools
Indoor or outdoor programs
Students have opportunity to hold parrots during optional photos (for a fee)
Professional high quality photos printed and delivered

 

on site same day
Program directly supports BRI parrot conservation projects
After the children have a fun interactive experience learning about parrots, listening to them talk and sing and watching them fly over their heads, we offer different photo opportunities with the birds at a fee at the end of each program. These photo opportunities help to fund our education program and care for our parrots.
Students can also participate in the $5 Bill trick in order to help fund BRI parrot conservation projects. This trick involves the student holding up a $5 dollar bill (or $20 if you like) and a sun conure parrot lands on their hand and returns the $5 bill to a jar. The money generated from the optional pictures and the $5 bill helps take care of our ambassador parrots. It helps parrots in the wild through Bird Recovery International
Palms For Parrots Program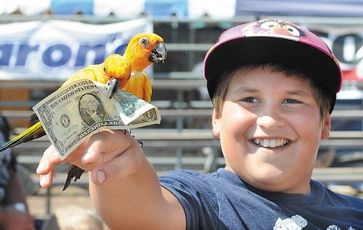 "Society grows great when old men plant trees whose shade they know they shall never sit in."
~ Greek proverb
Students can also participate in the Bird Recovery International's "Palms For Parrots" program by doing the $5 Bill trick in order to help fund BRI parrot conservation projects.
This trick involves the student holding up a $5 dollar bill (or $10, $20, etc,.if you like) for a sun conure parrot to land on their hand and return the $5 bill to a jar. The money generated from the $5 bill trick plants a palm tree in an area where macaws need additional food sources. The trees are planted by members of the local community, many of which live on $1 a day, providing financial incentive to value and preserve these trees and birds.
The trees will take about 8 years to produce fruit and will eventually die and the birds will build their nests in the cavities that form when the tops of the tree rots.
Our new mobile school program "Animal Clues" is an interactive educational program that is free to the schools. We get the students involved during the program with live ambassador parrots to teach students about adaptations, habitats, diets and other interesting facts about these beautiful charismatic birds. Approximately 15 parrots are brought to the school with over 10 different species from around the world. Students will be in awe as birds fly right over their head or talk and sing "Old McDonald" and do other fun activities that engage the students.
Chris Biro has made a career of flight training parrots. He flies parrots professionally as part of The Pirate's Parrot Show. Chris' show started out as a school program in 1991 in the Seattle, Washington area. Chris now lives in Arizona where he is working to help reestablish Thick-billed parrots into the wild between Flagstaff, AZ and Albuquerque, NM. He is now again bringing his knowledge and expertise of parrots to classrooms across the western US!
These School programs help us support Bird Recovery International (BRI).
BRI is a 501(c)3 nonprofit organization helping improve the science of parrot conservation and reintroduction. BRI currently has ongoing parrot conservation projects in Honduras and Brazil.
And it helps care for the rest of our 50+ parrots, most of which came to us in need of a new home.
Chris and BRI staff published scientific paper on using Parrot Free-Flight as a Conservation Tool
Chris and BRI help fund successful project in Peru Increasing Survival of Wild Macaw Chicks Using Foster Parents and Supplemental Feeding.
BRI could not exist without the generosity of our supporters.
By making a tax deductible donation to support the work being done by BRI, you join a community that is committed to helping save endangered bird species for future generations.
With your gift you are investing in nature's future and become a partner with BRI as we work to save endangered birds through reintroduction programs, research, education, and habitat conservation efforts.
Donations made to Bird Recovery International are tax exempt. BRI is recognized by the IRS as a 501(c)3 organization. IRS TIN # 26-0172673