Projects
BRI focuses on projects that have a direct beneficial impact on stabilizing endangered bird populations.
A critical first step in protecting endangered bird species is population stabilization. All too often endangered bird species are identified and studied but inadequate or ineffective steps are taken to stabilize existing populations, with the results that species populations continue to decline.
BRI promotes population stabilization as a critical first step in protecting bird species on the brink of extinction.
In addition to the BRINK program, BRI also conducts or supports research, educational, training and habitat conservation related projects.
---
Arizona Congressman Ron Barber sends letter on behalf of BRI to Department of Interior.
Click on link to read PDF.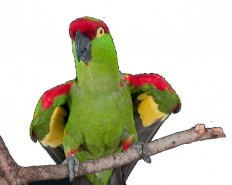 BRI is using its BRINK system to increase a Thick-billed parrot population in captivity and to prepare the captive population for release and sustainable breeding in the wild within their previous natural habitat range in Arizona and New Mexico.